The movie industry globally has gone agog after the release of exciting movie, "John Wick: Chapter 4" at the Silverbird Cinemas across Nigeria.
The movie which has attracted talking points from movie fans and enthusiasts after its release across all Silverbird Cinemas features talented actors, Aimée Kwan, Bill Skarsgård, Brahim Chab, Clancy Brown, Donnie Yen, George Georgiou, Hiroyuki Sanada, Ian McShane, Keanu Reeves, Lance Reddick, Laurence Fishburne, Marko Zaror, Natalia Tena, Rina Sawayama, Scott Adkins, Shamier Anderson.

The major character, Keanu Reeves as John Wick, a professional hitman and assassin who has gained a legendary reputation for his set of skills is now hunted by the High Table.
With a close look at the status of the movie in the market, "John Wick: Chapter 4" broke franchise records with its huge $73.5 million opening.
Interestingly, the "John Wick" franchise will continue in 2024, whether or not a fifth movies come to fruition, with the Ana de Armas-starring spinoff "Ballerina," which features Reeves' assassin in a supporting role.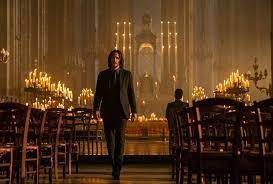 Sources have also revealed that the fourth instalment in the hit action franchise has made $128 million domestically, and $121 million in overseas territories, putting it on course to eventually overtake John Wick: Chapter 3 — Parabellum's $171 million domestic and $327 million worldwide gross to become the series' biggest hit.
The movie is still available at all Silverbird Cinemas across the country.
*NB: Showtime is subject to change
SHOWTIME
IKEJA CITY MALL, IKEJA
FRI:       
SAT:       
SUN:       
MON:       
TUE:       
WED:       
THUR:       
Silverbird Galleria, Victoria Island
FRI: 10:10am(VVIP), 1:10pm(VVIP), 3:35pm(VIP), 7:10pm(VIP)
SAT: 10:10am(VVIP), 1:10pm(VVIP), 7:05pm(VIP)
SUN: 10:10am(VVIP), 1:10pm(VVIP), 3:35pm(VIP), 6:45pm(VVIP)
MON-THUR: 2:00pm(VVIP), 3:35pm(VIP), 7:20pm(VVIP)
Silverbird Cinemas, SEC Abuja
FRI-SUN: 10:05am, 12:15pm, 3:10pm, 4:00pm, 5:20pm, 6:05pm, 8:15pm, 9:00pm
MON-THUR: 10:05am, 12:15pm, 3:10pm, 4:00pm, 5:20pm, 6:05pm, 8:15pm, 9:00pm
Jabi Lake Mall, Abuja
FRI-SUN: 10:50am, 12:00pm, 2:00pm, 3:00pm, 5:10pm, 6:10pm, 8:20pm, 9:20pm
MON-THUR: 10:50am, 12:00pm, 2:00pm, 3:00pm, 5:10pm, 6:10pm, 8:20pm, 9:20pm
IBOM TROPICANA ENT. CENTRE, UYO
FRI-SUN: 3:10pm, 6:10pm
MON-THUR: 3:10pm, 6:10pm
WEST HILLS, GHANA
FRI-SUN: 4:00PM, 6:00PM, 9:00PM
MON-THUR: 4:00PM, 6:00PM, 9:00PM
ACCRA MALL, GHANA
FRI: 10:00AM, 12:00PM, 3:10PM, 9:30PM
SAT-SUN: 10:00AM, 12:00PM, 3:10PM, 6:20PM, 9:30PM
MON-THUR: 10:00AM, 12:00PM, 3:10PM, 6:20PM, 9:30PM